In over two months on the road, I've heard a lot of questions. One of the most common is, "What is this trip all about?"
Well, on the surface, I think it's fairly obvious.
My month in California was about eternal things like oceans and redwoods and the Sierra Nevada. My month in and around Oregon was about volcanoes and their impact on the landscape. Devastation, like Mt St Helens. Rebirth, like Mt Lassen. And eventually serene beauty, like Crater Lake.
If you know me, you know that surface-level answers are rarely enough. So, let's go a little deeper.
The Devastation of Mt St Helens
When Mt St Helens erupted on May 18, 1980, the devastation was complete. Whole forests were wiped out. Spirit Lake halved its depth and doubled its surface area. Fifty-seven people lost their lives.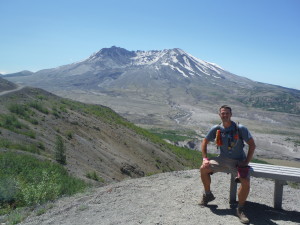 I erupted in the winter of 2008-09. I had just got engaged. I was deeply stressed from grad school and a career change. I was experiencing incredible financial insecurity from the combination of home remodeling debt and the recession.
And then. Boom.
When I exploded, I took forests and lakes with me.
I've always liked an analogy from George Clooney's character in Up in the Air. In discussing his minimalist ways, he said he had to remove everything from his backpack before deciding what to put back in.
Within months of my eruption, a lot had come out of my backpack. Old friends. Fantasy sports. Softball. Meat. Alcohol. My job at Insight. And, eventually, my engagement. The devastation was complete. The landscape of my life was as barren as the wasteland around Mt St Helens in 1980.
The Rebirth of Mt Lassen
While not as devastating as Mt St Helens, Mt Lassen did its share of damage to the California countryside when it erupted in 1915. Today, nearly 100 years later, life has returned to the landscape. In fact, it's beautiful. Waterfalls. Wildflower-covered meadows. Even baby pine forests.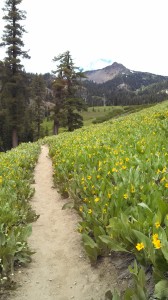 The rebirth is so complete that my friend and I debated whether Mt Lassen should retain its national park status now that its once-devastated landscape is essentially recovered.
Interestingly, in the rush to repopulate, life overexerts itself. There's competition as new life floods into the wasteland. It takes time for nature to find the right balance of trees and floor cover, predators and prey.
And so it's been with me over the last few years. To return to the Up in the Air analogy, I've spent the years since my eruption deciding what to put back into my backpack. Unlike Clooney's character, I've tried not to cloud my judgment with alcohol and womanizing.
I've tried a bunch of stuff – from church to meetup.com to Tempe Leadership. Some things have stuck with me. For example, I love yoga and hiking and gardening. Some things haven't. I doubt I'll return to sand volleyball or soccer or obsessing over HBO.
I've decided which friends to keep and which to let go. I've found a career path that makes sense for me. I've created a spiritual life essentially from scratch. Yup, things are looking pretty good these days.
The Serene Beauty of Crater Lake
Mt Mazama erupted 3,000 years ago and left a swath of southern Oregon as barren as that around Mt Lassen 100 years ago and Mt St Helens today. Over the centuries, its crater filled with rain and snow melt. Today, Crater Lake with its still blue water is recognized as one of our most beautiful places.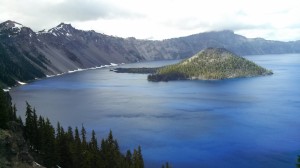 The eruption of Mt Mazama was over in days, but the transition to the serene beauty of Crater Lake took centuries.
Maybe that's what this trip is all about. It's about hitting fast forward on my evolution. It's about creating space to do little more than think and reflect and journal and grow.
I've made tremendous strides recently. One area of focus has been visualizing and setting intentions for my lifestyle back home. Another has been reversing my mistaken belief that there's a scarcity of suitable partners for me in Phoenix.
Progress has not always been easy. Some breakthroughs have actually been quite painful. But I seem to have hit a point of diminishing returns. In fact, on my most recent hikes, I haven't thought. I've just connected quietly. I've walked in peace.
I'll admit that I'm kinda ready to come home. So, perhaps I've done what I set out to do.
Don't get me wrong. The view from Mt Simpson ain't perfect. There are still some jagged lava rocks lying around. But that's OK. As far as I'm concerned, a few lava rocks add character to a landscape.