My first project of my first week back in Arizona was for the Eloy Enterprise. I hadn't planned to be back in the desert so soon. And I certainly hadn't planned to write my grandfather's obituary.
For reasons I'll outline in a future blog post, my second meander was far different from my first. This time, I was outside Arizona for 85 days but on the road for just 17 of them. The vast majority of the time was spent based out of Seattle. Not too shabby.
The plan called for at least a few more weeks on the road. Unfortunately, grandpa's health didn't allow it. After his second hospital visit this summer, I decided to meander home via the short (ahem, boring) road back through Idaho and Nevada.
Just 15 minutes from the turn toward Nevada's desolate Great Basin National Park, my mom called. Grandpa had gone on hospice. An hour later and I may not have received the call.
That ended the meandering. I put aside Great Basin and headed south. Less than 24 hours later, I was home. The next day, I saw grandpa one last time. That weekend, he passed. And on Monday morning, I sat at my computer and cranked out his obituary.
Celebrating a life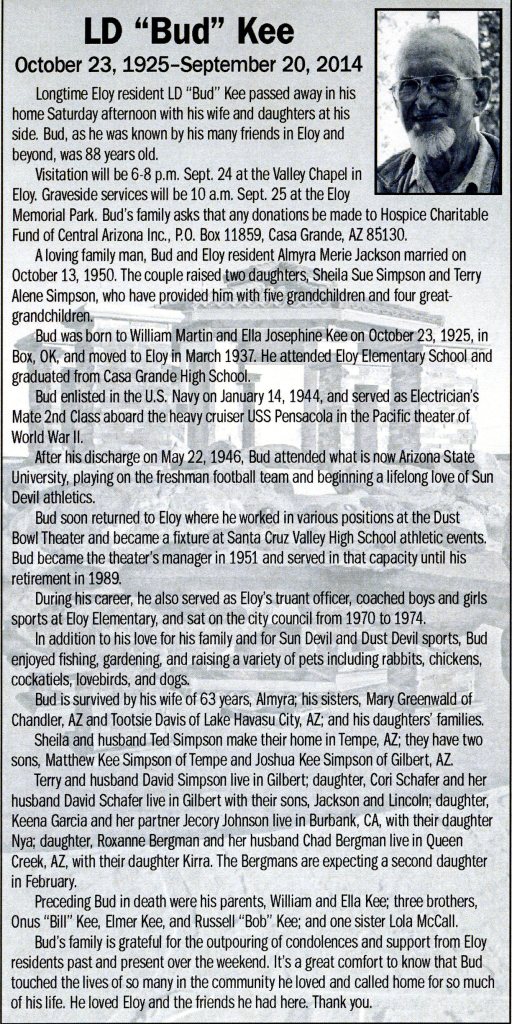 The assignment came with plenty of questions … and Google offered little help.
The obituary is a traditional vehicle with a very formal structure. It doesn't leave a lot of room for creativity. But Bud Kee was more than a resume and a list of survivors. I remember him as a World Way II veteran, civic leader, family man, gardener, and hardcore Sun Devil. I imagine my mom remembers him differently.
How do you celebrate what made him him? How do you honor a man who was loved not only by his family but by an entire town? How do you inform the audience (the people of Eloy) while meeting the needs of family members, each of whom has her own stories and memories?
In the end, I played it safe. I followed the traditional format, but I cheated a bit. I lifted the first mention of his family above the chronological rundown of life events. I peppered in a few personal notes about his hobbies and his love of ASU and Santa Cruz High School sports. And I concluded with a thank you to the people of Eloy for their outpouring of love for our family on Facebook and elsewhere.
Saying goodbye
The funeral was on a hot Thursday morning in Eloy. I could feel the Arizona sun burning through my black golf shirt. This was definitely not Seattle. I found my eyes drawn to the prominent and impressive Picacho Mountains that loom over the tiny town grandpa called home since the 1930s.
When it came to writing an obituary, I was a rookie. When it came to delivering a eulogy, this priest was a pro.
I made note of a few key thoughts from the eulogy. My grandfather was a man of service. He was humble and always content. He looked after the community's children and knew his neighbors. He understood creation and appreciated it, as seen in his love of animals.
These thoughts shook me. Am I being of service to my fellows and making a difference in my communities? Am I remaining humble and content, or am I yearning for more? Am I appreciating the beauty all around me, or am I rushing through life?
As I looked out at the Picacho Mountains, I lost a few tears. I haven't quite recovered. I learned last year that returning home from a long journey is jarring. This year, the effect is compounded by a funeral – and some lesser disappointments that seem trivial by comparison.
I want to climb into those beautiful mountains and have a nice long think. I need another Meander to get my head on straight.