Love me like I love Arizona? Don't miss my next post. Subscribe today.
The Meander ended at around 6 p.m. on Sunday, September 15.
At first I resisted, but resistance was futile. I surrendered late on Wednesday. Within 36 hours, I was home after 134 days and 10,000 miles on the road.
What happened at 6 p.m.? I'm not quite sure. In the late afternoon, I watched in awe as a heard of 50 bison crossed the Yellowstone River. Within hours, I was so moody during a long traffic jam that I was unmoved passing within feet of the dozen or so bison that were blocking the road.
On Monday, I was numb to the sights of the Grand Canyon of the Yellowstone – one of the most painted vistas in the American West. Back at camp that night, I recognized my funk and resolved to turn it around.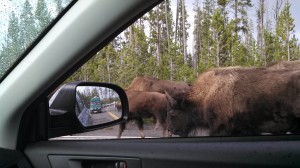 And then the weather turned. It rained and hailed all night. The echoes of the thunder boomed off the surrounding mountains. Lying awake in my tent, I counted the seconds between lightning flashes and thunder crashes and determined some strikes were within two miles of camp.
Tuesday's weather report promised snow flurries and subfreezing overnight lows, so I broke camp and headed south to Grand Teton National Park.
I spent most of Wednesday in the warmth of Jackson Lake Lodge before returning to camp that night. I sat in my car as the frigid rain poured down. Facing another night of rough sleep, I threw in the towel.
I was done.
I found a room in Jackson, hastily broke camp, and drove through the pitch black hoping not to hit a moose. The next day, I drove 650 miles over 11 hours to Page, Ariz., where I bought a six pack of Kiltlifter at Safeway. I was home.
The Beauty of the West
I experienced incredible beauty on the Meander. Our government has protected our 59 most beautiful places as National Parks. I visited 10 of them this summer – not to mention numerous state lands, national forests and monuments, and great cities and towns.
What I've seen with my own eyes, most only see in photos or on television. Reproductions can't do the sights justice, but they can move me to tears.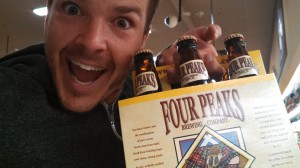 In Leavenworth, Wash., it was photographs of the Pacific's rocky coasts and the Northwest's glacial lakes. In Bozeman, Mont., it was paintings of beautiful rivers, big mountains, and, of course, bison.
Alas, squeezing so many sights into a single summer comes with a price. Eventually, it's hard to differentiate. After all, how many different configurations of mountains, water, and trees can you see in one summer – in one lifetime – and still see them through fresh eyes?
The West is beautiful – overwhelmingly so. It's so beautiful that it's numbing. And that's why I had to throw in the towel. Why spoil one's first experience with a beautiful place by plowing through it cold, exhausted, and homesick?
The Beauty of Home
My return home was surreal. As I passed through Flagstaff onto the familiar freeway to Phoenix, I began to feel as though I was simply returning from a weekend trip. It was as if Yosemite and the Redwoods and Seattle had all been a dream.
A few weeks ago, a friend asked me, "Do you still want to live in Arizona after all the beauty you experienced?" I took the question to imply that Arizona is not beautiful.
I'll admit it. The Valley is not as beautiful as Mt. Rainier. Or Glacier. Or the Olympics. Anyone who has been to those places would almost certainly agree.
But the Valley is home. And after 134 days and 10,000 miles on the road, home is plenty beautiful to me.
Love me like I love Arizona? Don't miss my next post. Subscribe today.